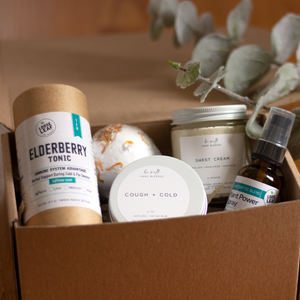 Winter Warrior Bundle of Intention
Regular price
$64.99
$0.00
Unit price
per
Protect yourself from winter troubles!
If you're feeling:
-A cold or flu coming on
-Discomfort from fever, chills
-Yucky, with cough and runny nose
-In need of a little immune support
-Achy 
-In need of sanitizing germy hands or surfaces
-Dehydrated and dry skin 
Then this Winter Warrior of Intention is just what you need! Each eco-friendly product has been carefully curated and lovingly packed to help whoever needs it, feel better!
What's Inside:
Elderberry Tonic Loose Leaf Tea Elderberries have long been regarded as THE herb to use when you're feeling under the weather. These little powerhouse berries are blended with immune-boosting echinacea and licorice root, along with rosehips and citrus chunks for a blast of vitamin C. Ginger and cinnamon help your tummy and sinuses feel better, and sarsaparilla promotes natural detoxification. 100% certified organic ingredients: Elderberries, Rosehips, Ginger, Cinnamon, Oranges, Licorice, Echinacea root, Lemons, Sarsaparilla root. 

The brand is Loose Leaf Tea Market, founded by

 Kita Centella, a passionate herbalist, who expertly blends the loose leaf tea in concentrated batches. Each tea contains a bounty of the most wholesome botanicals, with no artificial sweeteners, flavors or garbage ingredients. In a dedicated effort to be earth-conscious, Loose Leaf Tea Market is committed to being part of the global solution of conservation by using only the highest grade of organic, sustainably sourced ingredients and recyclable packaging. Canister makes approximately 20 cups. Packaging is eco-friendly and biodegradable.

Plant Power Spray, a botanical aromatherapy cleansing serum made with potent essential oils in a base of ethyl alcohol and purified water
Organic Feel Better Bath Bomb is wonderfully healing when you've got the achy, sniffling, sneezes. Healing essential oils will soothe your tired mind and open up those clogged nasal passages, while the shea butter and coconut oil go to work on your skin and aching muscles. Topped with a dried calendula flower to aid in your healing, this bomb is great for a long soak in a steamy bathroom. Guaranteed to make you feel better than when you stepped into the tub. Made by Butter Me Up Organics, who is a zero waste company that believes in recycling and upcycling at every opportunity. They are completely cruelty free and require that certification from all of our vendors as well. 
All Natural Cough + Cold Vapor Rub

 is formulated using coconut oil, shea butter, vitamin e oil, jojoba oil, and kid's sniffleease (essential oil) to aid in managing symptoms of coughs + colds.

 

The perfect addition to your cold season remedy stash! 

Safe for children and babies too. Store in a cool and dry place, keep out of direct sunlight. 2 oz plastic-free container. 

Made by Wildflower Apotheca, a woman-owned small business located in central massachusetts. Handmade and ethically sourced from other woman-owned small businesses around the United States.

All Natural Sweet Cream — Double Action in Shower Exfoliant

Infuse moisture back into your skin with this all natural sweet cream sugar whip. It's an all-in-one, one step exfoliate and moisturizer used while in the shower. It's a one and done kind of product that allows you to step out and be ready to roll. Made from a blend of organic shea butter, mango butter, raw sugar, vanilla, and peppermint. Also made by Wildflower Apotheca.
---
Share this Product