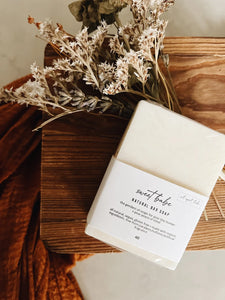 Sweet Babe Organic Bar Soap
Regular price
$6.00
Sale price
$7.00
Unit price
per
This 4oz bar, carefully handmade with skin health + baby safety in mind is just for you. this bar is cocoa butter based + hydrates, protects + moisturizes tiny human skin (or grown ups with sensitive skin) in the most gentle of ways. oils used in this bar aid in relaxation, immune support + help to soothe skin + balance mood.
Ingredients: cocoa butter soap base, himalayan cedarwood oil, ho wood oil, sweet orange oil, chamomile flower oil, vetiver root oil, turmeric oleoresin oil (for tint!)
Handmade natural bar soaps are most certainly an underrated favorite. With the sudsy lather of a liquid wash, as well as the convenience and benefits of a cleanser without artificial ingredients or plastic bottles that usually contain mostly water—it's a win win.
The soaps all natural, gluten free + made with organic ingredients. They are wrapped in BPA-free, biodegradable shrink wrap + have recycled cardstock wraps, making them a perfect low-waste choice. Soaps are handcrafted + hand poured by a talented mama who owns Set Apart Studio in Massachusetts. 
---
Share this Product