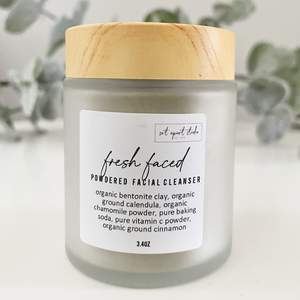 Fresh Faced Organic Facial Cleanser
Regular price
$20.00
$0.00
Unit price
per
Fresh Faced Organic Facial Cleanser is a handmade powdered facial cleanser handcrafted with 100% all natural and organic ingredients. Keeping a cleanser in powdered form means you recieve more product + the product will last longer than many cream cleansers.
Travel friendly, kiddo friendly, + pregnancy friendly. Packaged in a 3.4 oz. frosted reusable + recyclable glass jar (cap is plastic, please check with your local recycling center to make sure you can recycle it). This cleanser is built to last + safe for use multiple times per day for all skin types!
Instructions: Simply place a quarter sized amount of product in your hand, add drops of water + mix until a paste forms. rub into skin for 2-5 minutes + rinse with warm water. bonus: add less water + apply as a face mask, rinsing off when dried in approximately 10 minutes.
Ingredients: Bentonite clay, hand ground organic calendula flower, organic chamomile powder, baking soda, pure vitamin c powder, organic ground cinnamon [ No additives, metals, artificial ingredients or fragrances! ]
Handcrafted by a talented mama who owns Set Apart Studio in Massachusetts. 
---
Share this Product