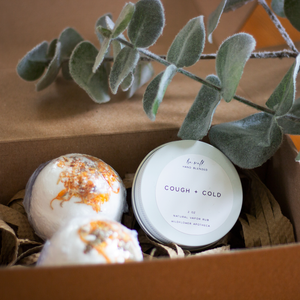 Feel Better Bundle of Intention
Regular price
$29.99
Sale price
$33.99
Unit price
per
Do you have:
-A cold or flu with sinus and chest congestion?
-Achy muscles?

Safe for kids! This bundle is perfect for anyone who is stuffy and could use a nice therapeutic bath to help their congestion and aches.
What's Inside:
2 Organic Feel Better Bath Bomb is wonderfully healing when you've got the achy, sniffling, sneezes. Healing essential oils will soothe your tired mind and open up those clogged nasal passages, while the shea butter and coconut oil go to work on your skin and aching muscles. Topped with a dried calendula flower to aid in your healing, this bomb is great for a long soak in a steamy bathroom. Guaranteed to make you feel better than when you stepped into the tub. Made by Butter Me Up Organics, who is a zero waste company that believes in recycling and upcycling at every opportunity. They are completely cruelty free and require that certification from all of our vendors as well. 
All Natural Cough + Cold Vapor Rub

 is formulated using coconut oil, shea butter, vitamin e oil, jojoba oil, and kid's sniffleease (essential oil) to aid in managing symptoms of coughs + colds.

 

The perfect addition to your cold season remedy stash! 

Safe for children and babies too. Store in a cool and dry place, keep out of direct sunlight. 2 oz plastic-free container. 

Made by Wildflower Apotheca, a woman-owned small business located in central massachusetts. Handmade and ethically sourced from other woman-owned small businesses around the United States.
---
Share this Product